Friends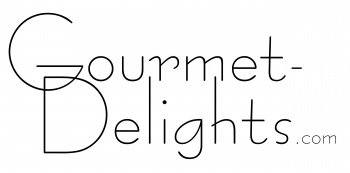 Gourmet Delights is honored to be featured at:
The Primlani Kitchen
Rashmi's passion for cooking blossomed at 12 with her family being her hapless audience. Over time she improved with a dash of perseverance and many a mishap along the way that her family has lovingly endured. She does research her food, and tends to use a published recipe as guidance and always adds that little something of herself to it. The results are generally somewhat unique than classical. Then again unique is what she is, and her quest to find the next new taste keeps her on my toes.

She believes that to achieve a level of excellence one must move out of their comfort zone, and go the extra mile. Therefore she tries all recipes and styles of cooking which she embellishes with her own variations and creativity. It has been her experience that in order to cook, one needs two major ingredients, passion and more importantly love. She makes sure they are amply used in her dishes.
---
Farm & Table
Executive Chef Ka'ainoa Ravey, is now at Farm & Table. Using his many talents in the kitchen, he creates a seasonal menu (changing several times a year) based on fresh produce, dairy, and meats sourced from our local food area. In addition to full entrees, he offers small plates that are perfect for tasting & sharing. All of the dishes are created from scratch with fresh (and often organic) ingredients. The restaurant also offers flights of wine, beer and cheese. Chef Kai has given Gourmet Delights the great honor of adding our products to his incredible dishes.

Visit and discover why Chef Kai chooses to use our Acquerello Risotto Rice, Belazu Balsamic Vinegar, Truffle Salt, Gran Capirete 50 year Sherry Vinegar, J. Leblanc Pumpkin Seed Oil (also used at The French Laundry), and Gourmet Delights Extra Virgin Olive Oil. It is a difference you can taste!
---
Reserve
Chef Matthew Millar has been nominated as a semi-finalist for the prestigious James Beard Award for Best Chef Great Lakes. He is the first chef ever nominated from West Michigan. Inspired by the fundamental relationship between food & wine, his menu offers enticing possibilities for your palate. With a menu to raise your glass to, savor each moment that comes with every bite.

Chef Matthew Millar is a huge fan of our "Conservas de Cambados" sardines from Galacia, Spain. Try some for yourself and see why one of the Best Chefs in the Great Lakes region chooses to buy from us.
---
Cooking with Books
Chef Nelly Rodriguez-Murray, a graduate of the Culinary Institute of America with degree in Baking and Pastry Arts, lists baking as one of her true loves. Her creations are amazing and we greatly appreciate her exploring our gluten free Quinoa Flour and coming up with this incredible recipe for Quinoa & Pear Banana Bread. Be sure to follow her on Twitter at @nella22, you will learn so much from her Tweets.
---
Casa Vieja Restaurant
Executive Chef Josh Gerwin, co-owner of Casa Vieja Restaurant, which was recently awarded the "Best Fine Dining Restaurant" & "The Most Romantic Restaurant" by Local IQ Magazine, has given Gourmet Delights the great honor of adding our products to their magical dishes. At Casa Vieja you have the exceptional talents of Josh, voted "Best Chef in Albuquerque", in the kitchen using the highest quality ingredients he can find to prepare your meal.

Discover why he has chosen our White Truffle Oil, Banyuls Vinegar, Grade A-I D.O. La Mancha Saffron, Gourmet Delights Extra Virgin Olive Oil, O Blood Orange Olive Oil, the Gran Capirete 50 Year Old Sherry Vinegar, J. Leblanc Walnut Oil (also used at The French Laundry) and many many more by tasting his magnificent dishes. Don't forget to ask Sommelier Kate Gerwin for recommendations on the perfect wine to complement your meal!
---
The Beehive Blog
A wonderful review of some of our products from Kimberly ~ Queen Bee at Beehive Blog ~ Chief Umbrella Holder at ParasolCreations.com ~ Director of Social Media & Digital Strategy at 4Virtu.com ~ Taste Tester at FoodiesUnite.com ~ Wild Woman at WisdomLaughterHealing.com

Obviously when she says "I love food. I love to read about food, shop for food, prepare food and, of course, eat food." you can believe her. We are honored by your review and humbled that "The Beehive Blog is happy to pronounce Gourmet Delights as the Bee's Knees!"
---
Don't Forget to Kiss the Cook
Katie M is a jewelry designer in Los Angeles, California with a passion for Food and Wine. Her blog "Don't Forget to Kiss the Cook" maps her adventures in cooking and brings mouth watering photo's of her creations guaranteed to leave your stomach growling.

Our products show up in Katie's recipes often and we are honored to be listed under her "My Favorite Links" and to have our Truffle & Salt prominently mentioned time and again. With 3 permanent Gourmet-Delights.com links on her page, we know we've found a fellow foodie!!
---
Gourmet Delights is our BFF for Girls Night In!
Hello, my name is Kimberly and I am a Foodie. Escargot is a comfort food for me. Weird but true. I crave it. Recently, I had just this craving: give me escargot and or I am going to commit Foodie Hari-Kari. Enter the delivery from Gourmet Delights and some of the BEST escargot that I have ever had!

Our evening was topped off by an enormous jar of Griottines - cherries that have been soaked in liqueurs … more than that …. amazing and awesome cherries – that were the perfect topping for the vanilla and chocolate Haagen Dazs ice cream that we had for dessert.

An amazing journey of gastric delights mixed with great company and lots of fun girl talk! It truly does not get better than this!
---
Set the Mood with Food and Gourmet Delights
While hanging out in Utah with the girls, we received a lovely care package from Gourmet Delights for our Girls Night In evening.

There was a feast of delicious treats … mushroom truffle spread, Veleta sardines, pear-vanilla jam, Henri-Maire escargots, truffle honey and my absolute tip-top favorite Griottines … this was as fun as visiting the food halls at Harrod's! Actually, you can find most of these products in the best food halls in the world which makes the offerings from Gourmet Delights extra special.
---
Foodies Unite
Food has always been a huge part of my family and my life. The kitchen was the best room in the house and where everyone inevitably congregated. My parents are both gourmet cooks and used to host weekly fabulous dinner parties and gourmet groups. As I have gotten older, my love for food and appreciation for the exposure that my parents have be at such a young age have grown. I love to cook, I love to go out to restaurants, I love to tweet so that is what Foodies Unite is all about … Marvelous food … Cook it, Tweet it, Talk about it, Eat it! ~ Chief Taste Tester Kimberly
---
7 Beauty Uses For Extra Virgin Olive Oil
I fell in love with extra virgin olive oil- All over again! I go through gallons of it in my kitchen and just a few weeks ago I fell head over heels for a blood orange infused olive oil from Gourmet Delights. Since then I've been using it not only on my daily salad but also as my favorite beauty product.

"Ciao Florentina" is where I share my passion for cooking with the world, it is a journal of a simple life filled with joy and laughter and sinfully delicious recipes. It is my second home where I hang my apron and my heart.
---
The Foodie Hurricane Survival Kit
After living in South Florida for many years, I can say that I am hurricane-proofed. Even after living out west, my hurricane ready instincts always kicked in and I kept a "disaster" box filled with all of the necessities but actually, there should be two boxes. Everyone needs the Hurricane/Disaster Survival Kit and then they should also have the Foodie Hurricane Survival Kit.
Who wants to eat spaghettios for 3 days or more waiting for the electric to come back on? NOT ME.
SO this list is all about surviving in style and taste – the items that really get you through the stress of a hurricane.
---
Damp Cement
Damp Cement: The Signature of Rain derives it's name from the trademark scent that follows a storm. The smell of the moist sidewalks is an unmistakneable aroma that always acted as a primer to some of my best work and most productive design streaks. It only seemed an appropriate title for what aims to be my most prolific personal project to date. Damp Cement is a collective of skillsets, united under a single productive roof, that aims to cover all ends of the online-services spectrum and ensure the leading members of their respective field are offering the highest quality products and services to those in need of it.

Easy to work with, great rates and I could not be more pleased with the outcome! HIGHLY recommended!
---
Marcello's Chop House
The Chophouse is where you can enjoy great chops, the finest steaks, and beautiful wines in a relaxing neighborhood setting. The Chophouse has been honored with numerous awards for their outstanding steaks and wine list.

The focal point of the restaurant is their specially constructed, temperature controlled wine cellar. Their Wine Cellar features personalized wine lockers. Take a look to see if you know anybody on the Wine Wall at the Chophouse. Their extensive wine collection features the finest wines in the world and the expert staff is there to create a memorable dining experience whether you are a wine aficionado or being delighted by their personally tailored recommendations. Each and every glass of wine they pour will be a reflection of your good taste and good times.

Please make a reservation to see why Executive Chef Ryan Gray and General Manager Bill Howley have chosen Gourmet Delight's Belazu Balsamic Vinegar, Truffle & Salt, J. Leblanc Hazelnut Oil (also used at The French Laundry), the O Tahitian Lime Olive Oil, Pear Pulp Vinegar and many other ingredients to delight your palates, and enhance their magnificent dishes and your dining experience.
---
Brasserie La Provence
Executive Chef Fred Gallegos has honored Gourmet Delights with the addition of our products in his wonderful menu. Fred uses nothing but the highest quality ingredients he can find, and it shows in each and every dish that comes to your table.

Brasserie La Provence invites you to come experience a little touch of Provence, with food to delight your palate, service to relax your stay and wine straight from France. Experience a little piece of the French countryside in Albuquerque. Visit them to discover how Fred turns our great White Truffle Oil, Black Truffle Oil, Grade A-I D.O. La Mancha Saffron and La Chinata Smoked Paprika into fabulous meals for your dining pleasure.
---
Nob Hill Bar & Grill
Owner Matt Ludeman and Executive Chef Richard Pfaff have honored Gourmet Delights with the addition of our products in their classic American dishes and bar food favorites, all prepared with a gourmet twist.

Here, in a warm, inviting environment located in the middle of Albuquerque's vibrant Nob Hill district, Nob Hill Bar & Grill is a place where everyone can feel welcome, from those looking for a casual, cool space to hang out and enjoy cocktails and appetizers, to those wanting the simple elegance of a memorable dining experience with friends, family and business associates.

Visit Nob Hill Bar & Grill to taste their wonderful dishes made with our Belazu Balsamic Vinegar, Spanish Grade A-I D.O. La Mancha Saffron, 50 Year Old Gran Capirete Sherry Vinegar, O Olive Oils, J. Leblanc Hazelnut Oil (also used at The French Laundry) and many many more.
---
Scalo Northern Italian Grill
Scalo has honored Gourmet Delights with the addition of our products in their impressive selection of never-before-seen specials and regular menu items! Their talented chefs, led by Executive Chef Claude Freeman, will prepare these dishes with the finest ingredients for the enjoyment of all their dining guests.

In 2007, Wine Spectator bestowed upon Scalo the Award of Excellence for its outstanding wine selection. Scalo started bringing original and traditional Italian food to Albuquerque in December of 1986. Since its opening, Scalo has brought premium pasta, steaks, fish and other fine cuisine to Nob Hill, in the center of Albuquerque.

Please make a reservation to try their wonderful dishes made with our Belazu Balsamic Vinegar, Griottines, J. Leblanc Hazelnut Oil (also used at The French Laundry), La Favorita Porcini Oil, O White Balsamic Vinegar, Gourmet en Provence Pear Pulp Vinegar and many many more.