Topara Organicahas has made it their mission to cultivate and produce products that represent the rich culinary traditions of Peru while restoring their land and strengthening their local community. The company organically cultivates and processed many indigenous crops including ajis (chile peppers).
Topara is a leader in their community and throughout Peru in organic cultivation. To this day they have the only certified organic nursery in the country. They work closely with neighboring farms to train them in organic agriculture. When the company purchases products from neighboring farmers, they oversee all aspects of the cultivation from seedling to harvest. Topara ensures that all organic certifications are in order.
A Rooted Foods Product.
---
The original source of the recipe below is located here: Spicy Cocktails to Spiced Chocolate: #SpicyChat is Cooking a 3 Course Dinner with Chilies from @exceptionalfood. We reproduce it on this page in its entirety for your convenience.
Spicy & Aromatic Meatball Tagine
My family adores this fusion of Moroccan-Latin flavors. Beautifully seasoned spicy meatballs slowly simmered in a delicate melange of herbs and aromatic spices creating an intoxicating mix of flavors. Poach a few eggs in the divine sauce, and it is sublime! My kitchen smelled absolutely incredible while the sauce was simmering. Wish you could taste it!!
I used Aji amarillo (for heat) and smoked paprika (for flavor) to spice this dish.
Aji amarillo is the most common type of aji and is one of the most important ingredients in Peruvian cooking. It has a heat level of 7 on a scale of 10 (50,000 Scoville units). The unique flavor of the Aji Amarillo makes it worth seeking out and incorporating into your cooking. Even though it is a "chile pepper" it has a lot of fruitiness combined with its heat. It is a very versatile chile, suitable for everyday use as it will complement your dish without overwhelming it.
Smoked paprika is a unique and versatile seasoning, one spice that captures the essential flavor of Spain. Different varieties of pimiento are slowly smoked over a low flame to produce a superb, intense flavor. It provides an inimitable especially in stews and rice dishes.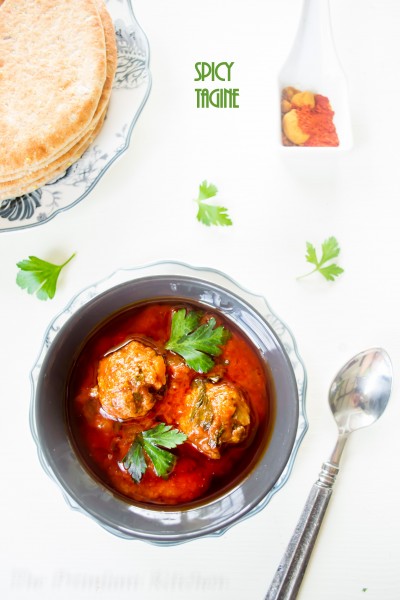 Ingredients:
For the Tomato Sauce:
1 2lb can San Marzano tomatoes
1 onion, minced
4 cloves garlic, minced
2 tsp roasted cumin powder
2 tsp La Chinata smoked paprika powder
1 tsp Aji Amarillo Paste
1 stick cinnamon
salt and pepper to taste
4 tbs fresh mint leaves, sliced
4 tbs fresh cilantro leaves, sliced
1/4 cup good quality EVOO
For Meatballs:
1 lb ground beef (substitute with your choice of protein)
1 onion, minced
2 tsp smoked paprika powder
1 tsp Aji Amarillo Paste
1/2 tsp cinnamon powder
1 tsp kosher salt
3 tbsp fresh cilantro leaves, minced
1 tsp roasted cumin powder
4 large eggs (optional)
pita bread to serve
Directions:
Mix all the ingredients for the tomato sauce in a deep skillet over medium high heat. Bring to boil and simmer covered over low heat for 20 minutes.
While the sauce is cooking, make the meatballs. Combine all the ingredients for the meatballs and gently shape into 1 inch balls. Wipe your hands with some oil to keep your hands from sticking.
Once the sauce has simmered for 20 minutes, add the meatballs and 1/2 cup of water. Simmer covered on low heat for 45 minutes.
At this point you can serve it immediately or add eggs in the sauce. If you add the eggs, cover and simmer the tagine for additional 5 minutes to poach the eggs.
Serve hot with pita bread or choice of crusty roll to sop up the delicious sauce.

---




Ingredients: Organic Amarillo chili, water, citric acid.

Refrigerate after opening.

8 ounce glass jar