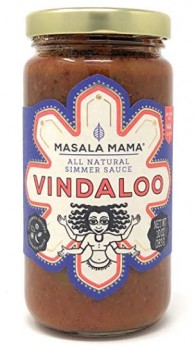 Be the first one to write a review
You only get out what you put in and at Masala Mama that means the freshest, all natural, ingredients. Our sauces are free of fillers and artificial additives. they are a healthy solution for anyone who wants to eat well without sacrificing delicious taste.
This Portugese-influenced sauce from Goa combines vin (vinegar) and alhos (garlic) with aromatic spices to result in a robust, mouth-wateringly spicy dish. Exceptionally delicious when paired with pork or lamb, and hearty vegetables.
From jar to plate in less than 30 minutes. Healthy, delicious eating doesn't get easier than this!
3 Steps to Vindaloo:
Sear CHICKEN, MEAT, SEAFOOD, TOFU or VEGETABLES in 2 Tablespoons OIL.
Add sauce; rinse out the jar with ¼ cup STOCK or water and add.
Cook till done, add more stock or water if too thick. Adjust salt. Serve hot with rice or naan.
This simmering sauce is "medium hot."
Non-GMO ingredients
Gluten free
Vegan
No added sugar
No preservatives or artificial ingredients

---




Ingredients: Onion, Tomato, Water, Apple Cider Vinegar, Garlic, Ginger, Dates, Extra Virgin Olive Oil, Spices, Salt, Paprika, Turmeric, Mustard, Citrus Fiber, Garam Masala. Contains Mustard.

10 ounce (283 gram) glass jar