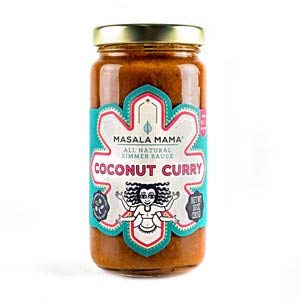 Be the first one to write a review
You only get out what you put in and at Masala Mama that means the freshest, all natural, ingredients. Our sauces are free of fillers and artificial additives. they are a healthy solution for anyone who wants to eat well without sacrificing delicious taste.
This irresistible Goan curry, traditionally made with fresh seafood on Goa's moonlit beaches, gets its sublime flavor from subtle spices and a divine blend of coconut and tamarind.
From jar to plate in less than 30 minutes. Healthy, delicious eating doesn't get easier than this!
3 Steps to Coconut Curry:
Sear 1 ¼ lb CHICKEN, MEAT, SEAFOOD, TOFU or VEGETABLES in 2 Tablespoons OIL.
Add sauce; rinse out the jar with 2 Tablespoons STOCK or water and add.
When almost cooked, add COCONUT MILK. Adjust salt. Serve hot with rice.
This simmering sauce is "mild-medium hot."
Non-GMO ingredients
Gluten free
Vegan
No added sugar
No preservatives or artificial ingredients

---




Best By: 11Nov2023

Ingredients: Onion, Coconut Cream, Water, Tomato, Garlic, Ginger, Date, Tamarind Paste, Extra Virgin Olive Oil, Paprika, Salt, Spices, Mustard Seeds, Citrus Fiber, Turmeric. Contains Tree Nuts (Coconut) and Mustard.

10 ounce (283 gram) glass jar